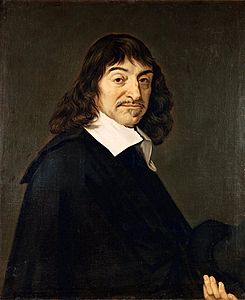 A round-up of some recent publications about the history, philosophy and pscyhology of emotions, including studies of sex, sickness, science, psychiatry, satire; emotional styles, emotional practices, emotional education; love and marriage; Thomas Aquinas, John Donne, René Descartes, Pierre Bourdieu; and why philosophy is good for you, but happiness can be bad for you.
If you would like to review any of the publications mentioned here, for the History of Emotions Blog, then please drop me an email.
Books
Jonas Liliequist has edited a significant new collection entitled A History of Emotions, 1200-1800, published by Pickering and Chatto. The book is comprised of a series of case studies exploring different aspects of the cultural history of emotions in medieval and early-modern Europe. Themes include theology, music, gender, sexuality, and tears.
Colin Jones, Juliet Carey and Emily Richardson are the editors of a book exploring, from various angles, an extraordinary eighteenth-century satirical work of comic drawings, providing unexpected insights into the cultural life and expressive and representational codes of pre-revolutionary Paris. The Saint-Aubin Livre de Caricatures: Drawing Satire in Eighteenth-Century Paris is published by the Voltaire Foundation. The same source was also drawn on by Colin Jones in his Presidential Address to the Royal Historical Society 'French Crossings II: Laughing Over Boundaries', which reflects on the bawdy laughter as well as the cerebral wit to be discovered in this so-called 'Book of Arses'.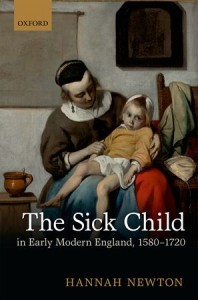 Hannah Newton's The Sick Child in Early Modern England, 1580-1720 grew out of a PhD at the University of Exeter. The book takes an innovative approach to the histories of childhood, medicine and the emotions, with a particular emphasis on the experiences of the sick children themselves. You can read the introduction to the book, which opens with some startling vignettes of infant deathbeds, via the OUP website.
Exploring familial affections from the vantage point of mothers and fathers, rather than their children (and also published by OUP), is Joanne Bailey's Parenting in England 1760-1830: Emotion, Identity and Generation. The book explores the intense emotions provoked by parenthood in a cultural world of sensibility, romanticism, and enlightened domesticity. Sources used include engravings and ballads as well as advice literature, court records, and memoirs. Bailey argues for the centrality of parenthood to physical and mental well-being in this period.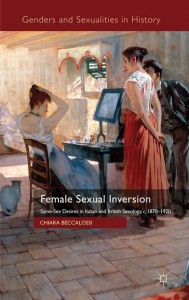 Chiara Beccalossi's new book was developed from a PhD thesis at Queen Mary, University of London. The book is called Female Sexual Inversion: Same-Sex Desires in Italian and British Sexology, c. 1870-1920  and is published by Palgrave. It compares British and Italian approaches to the scientific, medical and cultural apprehension of sexual desire between women in the late nineteenth and early twentieth centuries. You can read the first few pages via the 'Look Inside' feature on Amazon.
Mark Jackson's edited Oxford Handbook of the History of Medicine was published in 2011 and was reviewed recently by Ian Miller for the IHR Reviews in History online. Miller welcomed it as evidence that medical history was still 'a vibrant area of enquiry which has much to say about present-day concerns'.
Turning from the history to the philosophy of emotions, there are several important books to mention.
Our Policy Director at the QM Centre, Jules Evans, is an expert on ancient philosophical theories of the passions as well as the ways they have inspired modern psychological therapies such as CBT. His new book, entitled Philosophy for Life and Other Dangerous Situations, investigates how ancient philosophies are still used in all sorts of contexts by people seeking to manage their emotional lives, from soldiers and astronauts to therapists and policy-makers. The book was recently reviewed in the Observer by Alexander Linklater.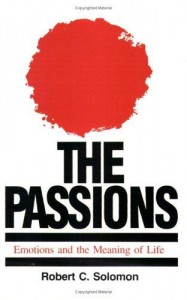 One of the most prolific philosophers of emotion in the Anglo-American world, who published ground-breaking and influential works for a period of over thirty years was Robert C. Solomon, who died in 2007. His book The Passions: Emotions and the Meaning of Life (1976) remains a landmark publication. Kathleen Higgins and David Sherman have now edited a book of essays, Passion, Death, and Spirituality: The Philosophy of Robert C. Solomon, which explores all aspects of Solomon's work, including his work on emotions, alongside his writings on existentialism, meaning, life and death.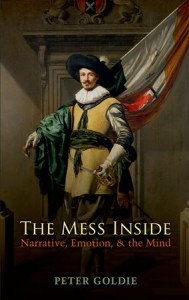 In Britain the leading philosopher of emotions, until his death in 2011, was Peter Goldie. Goldie's final book is now published: The Mess Inside: Narrative, Emotion, and the Mind, analysing emotions such as grief and forgiveness as forms of narrative thought. Goldie had an extraordinary career, as described in this Guardian obituary, first as a controversial financier, and then as an influential philosopher of aesthetics and emotion.
Carrying on the torch of academic philosophy of emotion, Julien Deonna and Fabrice Teroni have written The Emotions: A Philosophical Introduction, which will serve as a useful point of entry into recent philosophical debates about emotion for interested historians. Deonna and Teroni also recently wrote, with Raffaele Rodogno, a philosophical study of shame, which they discussed in an interview on this blog earlier in 2012.
Special Issues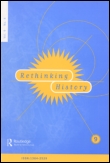 I imagine all historians of emotion will want to consult the recent special issue of Rethinking History on'Emotional Styles' edited by Benno Gammerl. This is an innovative and hugely stimulating collection including studies of material and geographical spaces, within which feelings have been produced and performed, from nineteenth-century Italian courtrooms to the oeuvre of Walt Disney, the ontology of the 'crush', and the work of Judith Butler.
The historian's own emotions are one of the concerns of the special issue of Rethinking History, and visitors to that journal's website will note that (currently at least) its most read article is an essay by Emily Robinson entitled 'Touching the Void: Affective History and the Impossible', first published in 2010, and now freely available. Robinson's article discusses the affective dimension of archival research, as does a recent post on this blog by Åsa Jansson.
A recent special issue of BMGN – Low Countries Historical Review, edited by James Kennedy, is on the theme of masculinities, and includes several studies of affection, emotion, and sensibility in European males.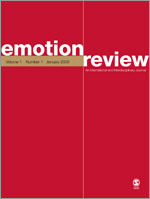 The interdisciplinary journal Emotion Review, which is published in association with the International Society for Research on Emotion (ISRE), and edited by James A. Russell, is always a reliable source of informative and cutting-edge articles on all aspects of emotion research. Two recent special issues include one on 'Emotions and Feelings in Psychiatric Illness', with contributions from philosophers, including Peter Goldie, Matthew Ratcliffe, and Rachel Cooper, and another on 'Social Constructionist Approaches to Emotion'.
Journal Articles and Book Chapters
In the latest issue of the online postgraduate journal, Ex Historia, published by research students at the University of Exeter, Stephen Bennett (Queen Mary, University of London) writes about 'Fear and its Representation in the First Crusade'. exploring representations of fear as a 'physical, material or spiritual trigger' in early accounts of the First Crusade.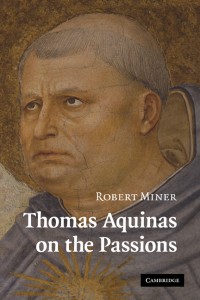 In the new Oxford Handbook of Aquinas, Peter King has written a chapter on 'Emotions', covering Aquinas's views on emotion, cognition, and volition. Aquinas's views on the emotions (or, more properly, the passions of the soul, the sense appetite, affects, affections, and so forth) have attracted a lot of attention recently, with books published on the subject in the last couple of years by Diana Fritz Cates, by Nicholas Lombardo, and by Robert Miner.
The Thomist model of the passions is a central concern, also, for Daniel Derrin in his article on 'Engaging the Passions in John Donne's Sermons' in the latest issue of English Studies, exploring the rhetorical techniques used by Donne to 'generate, transmute, and transfer the emotional responses of his audience towards his sermons' particular subjects'.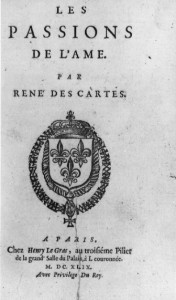 Sticking with canonical theorists of the passions, René Descartes' theory of the passions is re-examined by Shoshana Brassfield in an article entitled 'Never Let the Passions Be Your Guide: Descartes and the Role of the Passions', in the British Journal for the History of Philosophy. Brassfield seeks to overturn the established view that Descartes thought the passions could inform their subjects in useful ways about what is beneficial or harmful. The alternative picture offered emphasises the extent to which Descartes, like many moralists before and since, thought it essential that we should guide our passions and not let them guide us.
The other side of European moralists' exhortation to restrain the passions was the duty to cultivate appropriate moral affections towards oneself, one's family, and one's fellow-creatures. In an essay in History Workshop Journal, Barbara Taylor has recently discussed the eighteenth-century origins of the idea that the social affections and fellow-feeling were characteristically feminine qualities. The article is called 'Enlightenment and the Uses of Woman'.
The duties and uses of woman included displaying the right feelings and affections towards her husband and children. Denise Z. Davidson's article in the Journal of Family History on '"Happy" Marriages in Early Ninteenth-Century France' uses family correspondence to seek evidence of bourgeois couples in search of love and companionship within the established practice of arranged marriages. In this context, to be happy meant not to have a particular set of pleasant feelings, but to have economic security, domestic peace, and a clearly defined set of familiar obligations.
In Theory, Culture and Society, Joanna Bourke contributes an article asking why victims of rape, by contrast with other victims of violence, who were considered to have suffered psychic damage from the 1860s onwards, were not considered to have suffered a lasting psychological trauma, until  a century later. The essay is entitled 'Sexual Violence, Bodily Pain, and Trauma: A History'.
Clarie Langhamer's latest article 'Love, Selfhood and Authenticity in Post-war Britain', in Cultural and Social History, explains how heterosexual love became a central plank in the quest for emotional self-realisation in the post-war period: 'The ways in which love was fashioned in the 1940s and 1950s were central to the dramatic social and cultural changes that occurred in the decades that followed'.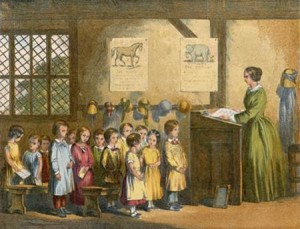 My own most recent publications are two articles looking at different aspects of educating and expressing emotions in Victorian Britain. 'The Tears of Mr Justice Willes' is a contextualised microhistory of a weeping judge in Journal of Victorian Culture. 'Educating the Emotions from Gradgrind to Goleman' is a study of the history of the idea that schools should educate children's emotions as well as their intellects, in Research Papers in Education.
Combining historical and philosophical analysis in History and Theory, Monique Scheer has written an article with a self-explanatory title: 'Are emotions a kind of practice (and is that what makes them have a history)? A Bourdieuian approach to understanding emotion'. As the abstract explains: 'Drawing on Pierre Bourdieu's concept of habitus, the essay emphasizes that the body is not a static, timeless, universal foundation that produces ahistorical emotional arousal, but is itself socially situated, adaptive, trained, plastic, and thus historical'.
Blog Posts and Online Publications
The June 2012 issue of Affect and Emotion is just out – the newsletter of the Swiss Center for Affective Sciences. It includes reports on research projects investigating the cultural meanings of emotions words in different languages, and on stress, emotion and the workplace.
The Spring 2012 issue of Wellcome History includes several articles (pp. 5-15) about emotions and the history of medicine written by scholars working at the Queen Mary Centre for the History of the Emotions, with topics including anger, tears, mimicry, public health, influenza, surgery, philanthropy, modern biomedicine, and the politics of happiness.
There has been a boom in the scientific and political promotion of 'happiness' in recent years, and so it is refreshing to read an article by June Gruber of Berkeley's 'Greater Good Science Center' on 'Four Ways Happiness Can Hurt You', including the commonsensical observation that actively pursuing happiness can make people very unhappy.
Our own Policy Director, Jules Evans, whose book is mentioned above, is a constant source  of intriguing and well-researched blog posts about the science and politics of wellbeing, both on his own blog and here on the History of Emotions Blog. He has recently written about the UK government's policy on well-being; about the New Left's vision of the personal, the political, and the role of grass-roots philosophy; a piece I particularly enjoyed about 'When politicians lose it', reflecting on the anger, tears, and other passions of leading political figures; and a recent commentary on Giles Fraser's impressions of  the philosopher of emotion Martha Nussbaum as excessively cool and controlled.