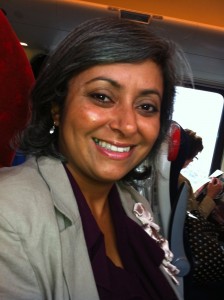 Dr Bharti Parmar is an artist who has exhibited nationally and internationally for 20 years.  Her PhD, "A Grammar of Sentiment: thinking about sentimental jewellery towards making new art about love and loss" explored the poetics of nineteenth-century museological artefacts.  She lives in Birmingham.
Her current concern is human hair as sculptural material.  Hair is material matter.  It is a hyper-realistic portrait of an individual. It provokes a physical and emotional reaction by its sight and smell. It serves memory through touch, handling and contact with the human body and as such, warrants cultural and artistic enquiry.
Here, Bharti shares with the History of Emotions Blog an edited discussion with curator Charlie Levine of the philosophical and technical processes of the making of 'Shag', a 5ft2 human hair shagpile carpet made using traditional wigmaking techniques.
'Shag' was commissioned by Charlie Levine for Aedas Presents and formed an artwork intervention in the corporate office spaces of architects Aedas.  It was exhibited in the Aedas Birmingham office in May 2012. 
CHARLIE LEVINE:  For your new piece of work, 'Shag', you have used real human hair to make a carpet.  Why is hair, as a medium, important within your work?
BHARTI PARMAR: In 'Shag' human hair is sculptural material.  The hair has been sourced from wigmakers' suppliers and originates from Europe and China. Quality human hair has always been expensive to purchase; in the 19th century, the highest prices were paid for golden and, surprisingly, grey hair for use in hairpieces.  'Shag' contains over £700 worth of hair.  Hair from suppliers is costly because of the laborious processing involved; it is washed, de-loused, colour matched, cuticle corrected (strands pointing the right direction) and double drawn (it is as thick at the bottom of the bunch as at the top). The carpet contains approximately 90% human hair, the rest is high quality Japanese heat-resistant modacrylic fibre used by wigmakers (also as expensive as real hair), which I have used to build up the texture and pile within the carpet.
'Shag' (video).  2012. ©Bharti Parmar
I have been interested in human hair, its cultural symbolism and its potential as sculptural material for a very long time. In the early 1990s many artists of my generation – largely those who have undergone a diasporic experience – used hair to act as a metaphor for addressing issues of identity and the self (e.g. Sonia Boyce, Zarina Bhimji and Simryn Gill).
I also drew inspiration from Serbian artist Zoran Todorovic's profound work 'Warmth' (2009) whereby stacks of felted blankets industrially produced from human hair "created from two tons of hair collected from hairdressing salons, prison and military barracks … create[d] an imprint of hundreds of Serbian people".[1]
'Shag' develops ideas within my doctorate in which I examined the poetics of Victorian jewellery – the ways in which hair stimulates remembrance and acts as a powerful instrument of evocation.  As a material expression of emotion, hair has been a longstanding preoccupation of my artistic practice – dead, but simultaneously "the vital surrogate of the living person" it appears to embody a curious paradox.[2]
'Shag' is a complex work which attracts and repels in equal measure.  It is full of paradoxes: it is gigantic in scale but its construction involved a painstakingly detailed process; it's a carpet but it's fragile; it elicits desire but also elicits disgust as attested by its vulgar double-edged title.  And it suggests the body through its absence and evokes a sexual animalistic response in the viewer with its nod towards fetishism and excess.
CL: In terms of premiering this piece at Aedas Presents, how has the venue affected the making, design and concept behind this work?
BP: In placing 'Shag' within a minimal controlled space where, ostensibly, it does not belong brings to mind feelings of discomfiture and awkwardness.  The carpet is accompanied by a video which provides insight into the process of its making.  It is an artwork which derives from the Surrealist tradition of exploiting unexpected juxtapositions of objects, materials and words to challenge our preconceptions of what is 'acceptable'.
Within the canon of art history, 'Shag' may be termed a 'sensational' work as it raises many interesting questions: slowness, scale, hair and cultural symbolism, art and craft, fetish, and some difficult ones: the use of hairpieces for chemotherapy patients and other medical conditions and the misuses of hair during the Holocaust.  It is ultimately a work about physicality; this artwork comments on physical space – just as architects fashion space for the physical body to inhabit.  It is essentially corporeal – it is of the body, from the body and for the body.  Incidentally it is exactly the same arm span and height as my body.  It was modelled on the original carpet of 6' feet sq. but is just short of that at 5' 2".
CL: Describe the technical challenges of learning unfamiliar wigmaking techniques for this piece.
BP: Undoubtedly, 'Shag' is a physical piece of work.  Much preparatory time was taken up with pondering on the technical means of making something on a scale hitherto unheard of by the wigmakers I approached.  I watched YouTube videos of Chinese women in wigmaking sweatshops knotting wigs at tremendous speed, I located hair suppliers and wigmaking tools and I researched wigmakers in the Midlands who might be open to the idea of helping me.
I started my work on the carpet on the principle of 'ventilating' (knotting) a wig – albeit on a larger scale and flatter surface – using a lace-making cushion rather than a traditional wig block.  However, unlike a wig, 'Shag' is knotted in such a way as to give it height.  After many false starts and trial runs the hand movements started to come more naturally and I felt in tremendous awe of the Chinese wigmakers who worked long shifts that I was unable to emulate.
My initial plan was to diagonally blend the colours of hair from dark to light across the carpet but, in fact, I began from the centre and the carpet developed in a much more organic way with blends forming instinctively.  Each evening I removed the carpet from its cushion and hung it on the wall to reassess how it was forming.  And I cut it to a pile of a set measurement.  I used a magnifying lamp to save my eyes and spent approximately three hours a day working on the carpet spread out over intervals.  It was physical to make – this extended to how I held my body, that is, how I sat, the position of my shoulders, the relaxation of my jaw, etc. otherwise my right hand would begin to ache.
When I neared the end of knotting, the carpet became 'alive'; I thought of it in anthropomorphic terms – it had a total gestation of 9 months with 2 spent on researching and 7 months making.  Furthermore, I began to liken each hair type with the personality of its owner: blond hair was unruly when dry, tamed when wet; grey alluring and silk-like but coarse to work with.  The carpet was then backed and professionally bound at the edges by a carpet firm in Kidderminster, the traditional home of carpets in England.
CL: What is next for this piece and your practice?
BP: This commission has been a turning point my practice.  'Shag' is an ambitious 'sculpture' and positions itself art historically within the Surrealist-derived engagement with the 'overlooked' (once popular artforms or amateur art practices).  Like Todorovic's 'Warmth', it is an imprint of humankind – a hybrid mix of people, it has a personality as individual as the hair it contains.
This project is the precursor for a new body of work which develops my knowledge of the memorial function of hair within nineteenth-century European jewellery to examine broader cultural and material concerns.  Not only was hair used within jewellery but the Victorian cult of hair grew to huge proportions: 'parures' or whole sets of jewellery were made from it.  Ornamental and practical applications for hairwork included kneepads, scent-bottles, and walking sticks.  I have begun work on exploring ideas of incongruity and uselessness in making a series of finely crafted miniature objects from human hair entitled multum in parvo ('much in little' or 'worlds in miniature').[3]
'Shag' has been shortlisted for the Celeste International Art Prize. 1-9 December 2012, Centrale Montemartini, Rome, Italy.
A full transcript of this text can be found at www.bhartiparmar.com 
---
[1] What Next for the Body December 2010-Feb 2011, exhibition pamphlet, Arnolfini Gallery, Bristol.
[2] Charles Berg (1951) The Unconscious Significance of Hair, p. 37.
[3] A term use by cultural theorist Susan Stewart to describe notions of the miniature in relation to, for example, language (micrographia etc.), Stewart (1993) On Longing, p. 52.