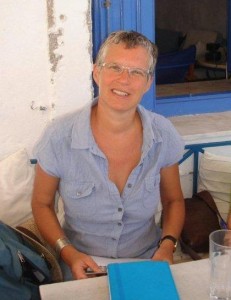 Beaty Rubens is the Series Producer of 'Five Hundred Years of Friendship' on BBC Radio 4. She previously produced a 30-part history 'The Invention of Childhood', presented by Michael Morpugo, first broadcast in 2006. In this blog post, Beaty describes a personal friendship stretching back 40 years, and examines why it has lasted.
___________
As I opened the image on my laptop and the photo filled my screen, I was instantly transported back to a time in the South of France, aged twelve, eyes screwed up against the sunlight, lips tight with anxiety about what I was going to say next to the French girl, Fabienne, standing beside me.
More than 40 years later, we are still friends.  In fact, my friendship with Fabienne is probably my oldest continuous friendship.   When she sent this photo to me, I was immersed in making a 15 part narrative history series on the changing face of friendship, so friendships – how we make them, what their function is, why they matter to us today, and have mattered over the centuries, – were very much on my mind.
Fabienne and I had met for the first time the day before the photo was taken.  Two families, each with six children, sitting at two long tables in a French hotel dining-room.  We seemed a good match from the start.  Her parents were looking for an English pen-friend for their daughter and had noticed that I was about the same age. Might I be interested?
Initially, our friendship entailed laboured letter-writing, in which we each attempted to stretch our small grasp of grammar and wildly inadequate vocabulary around descriptions of our twelve year old selves.  But mutual visits to one another's homes and schools, learning to find common ground in the space between two countries, two cultures, two languages, gradually became easier.
As Thomas Dixon, the presenter of Five Hundred Years of Friendship explains, scholars generally identify three distinct kinds of social bonds within the concept of friendship: 'familial', 'instrumental' and 'emotional'.   The French word for pen-friend is "correspondent", and Fabienne and I had the good fortune to find a real correspondence between us, so that our friendship ticked all three boxes.
"Familial" bonds are the oldest form of friendship, and the term really refers to kinship within or between families. We never had this, but our younger brothers became friends, our mothers still exchange phone calls, and our shared understanding of how to operate amongst many siblings helped our friendship to become absorbed into each other's families.
Our friendship was of real utility too – that's the 'instrumental' bit – as our language skills were improved by a growing desire to communicate beyond the basis of "Do you like the Beatles?" and "Surely you can't be saying you've  never heard of Serge Gainsbourg and Jane Birkin?".   Fabienne's English is far better than my French, but, to this day, I can be in a group of French people and unthinkingly follow not only the words but also the shifting tenor of the conversation – a Gallic "moue" of the lips, a shrug of the shoulders – and for that I have my friendship with Fabienne to thank.
Finally, there is the emotional part – which, as the series reveals, was not always  considered the most important aspect of friendship in the past, but is certainly central today.  We were lucky at the start to share many interests: we were both passionate readers, we studied the same subject at university, and, years later, we even married men with the same name.
Now, into our fifth decade, our friendship continues to flourish on shared memories, experiences, jokes.  We love each other's national cuisine and exchange Maltesers for Carambars, roast beef and Yorkshire pudding for tajine d'agneau, Summer Pudding for Tarte aux Pomme.  And while we acknowledge one another's national characteristics, we also dismiss them: Fabienne agrees that (some) English women dress well; I concede that (some) French people understand irony.   When we both turned 50 a couple of years ago, we didn't manage to celebrate together, but now we have a plan.
Perhaps the hotel, with its large, light dining room, offering family supper at six o'clock each evening, is still there?   Certainly we might revisit the medieval town with its window boxes spilling geraniums over the river, and find again the bridge where we stood, in our 1970s frocks, waiting for our lives to begin.
[This piece was first published on the Radio 4 Blog]
 _________
Listen to Five Hundred Years of Friendship
Return to: Five Hundred Years of Friendship at the History of Emotions Blog