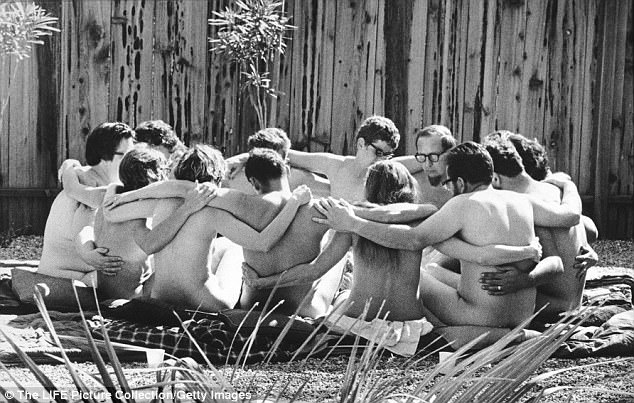 One of the highlights of my September 2018 trip to California was the chance to meet Michael Murphy. With his friend Dick Price, Mike co-founded the Esalen Institute, a cross between an adult education college and a spiritual retreat centre on the cliffs of Big Sur. Esalen is the spiritual home of transpersonal psychology, where psychologists like Abraham Maslow, Stanislaf Grof, and Fritz Perls developed their ideas. So many contemporary practices and ideas – from holotropic breathwork to ecstatic dance to somatic therapy to Authentic Relating to the idea of 'spiritual emergencies' – were born in that cultural incubator.
It is still going, 57 years later, which is a remarkable feat when you think how quickly and spectacularly other spiritual experiments went wrong. Mike Murphy is still going too – at 88, he is a picture of good vibes, with an incredibly well-stocked memory, bags of energy and a remarkable generosity of spirit (we spoke for three hours). I met him to discuss the so-called 'mystical expatriates' – Aldous Huxley, Gerald Heard, Alan Watts and Christopher Isherwood – who all moved from England to the US in the 1930s, settled in California, and helped inspire contemporary spirituality. Watts and Huxley in particular are modern prophets, and it's amazing to meet someone who was friends with them, worked with them, and developed their ideas so influentially. It's also fascinating to learn from Murphy what he thinks made Esalen such an enduring success – no guru, no religion, an emphasis on quality of teachers, and a balance between the aesthetic Apollonian and the messy Dionysiac elements.
You're one of the few people who knew all four of the 'mystical expats' and who was very influenced by them, and friends with them.
Isherwood I didn't know so well, but I'm deeply fond of the three I knew. They all came to the States before the War. None of them seemed to have any guilt about fleeing and getting out of harm's way, and I can't see Heard or Huxley in the British military. All four of these guys were full of life, and not crippled by footnotes in their writing, but still deeply informed, with great judgement and intuitive vision. People asked William James if he was a mystic and he said 'I wouldn't call myself a mystic but I have a substantial mystic germ'. Each of your four had a strong mystical germ though they weren't practicing contemplatives.
Who did you encounter first?
Alan Watts. I encountered him through Frederic Spiegelberg and the American Academy of Asian Studies [which later became the California Institute of Integral Studies]. Spiegelberg was a lecturer at Stanford University in comparative religion, probably the greatest lecturer I ever heard. I stumbled into his class by mistake at Stanford in 1950.  In 1951 he recruited students on the Stanford Campus for the new Academy of Asian Studies, and he claims I was the first to sign up. I took a quarter off at the end of my junior year and took the train up to San Francisco to attend classes there. Alan had moved West and was a full-time teacher at the Academy. He, Spiegelberg and Haridas Chaudhuri would do symposia there and became hot items in the City during the blossoming of the San Francisco renaissance..
There was an Indian renaissance at the end of the 19th century, mainly based in Bengal  and led in large part by religious innovators such as Vivekananda, Ramakrishna, Rabindranath Tagore, and Sri Aurobindo. Influenced by Spiegelberg I was inspired especially by Sri Aurobindo and his ideas on evolutionary spirituality. Spiegelberg had experienced darshan with both Sri Aurobindo and Ramana Maharshi, and he helped transmit that spark of the Bengali renaissance into the San Francisco renaissance – as did Alan, Huxley, Isherwood and Heard.
[That's a very interesting point, by the way. Part of the Bengali renaissance was the idea of the Perennial Philosophy – the idea there is a common core found within the great religions, particularly in their mystical teachings. Vivekananda and others helped to preach that in the Bengal Renaissance, and then Huxley, Watts and others helped to transmit that idea into the San Francisco Renaisance and the Sixties counter-culture. It's interesting to note how often the Perennial Philosophy is found within eras of cultural flourishing called 'renaissances' or Golden Ages.]
Spiegelberg was more than just a scholar.  He had genuine mystical insight. You know, it's very hard to measure the degree of mystical realization in a person. But I think I was close enough to Watts, Huxley and Heard to make a guess. Alan was never a disciplined meditator, and he did have a drinking problem at the end of his life, but he often spoke as one who knew.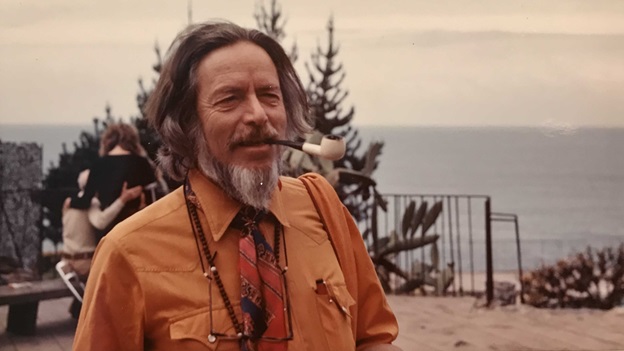 What was Watts like?