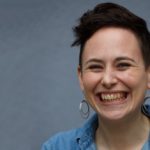 This is a post by Helen Stark. Helen is a Project Manager in the Centre for the History of the Emotions.
---
The 'What is Emotional Health?' workshop ran on the afternoon of July 4 and brought together the Living with Feeling project team with named collaborators on the grant, plus new contacts made in the previous eight months. There were twenty-three attendees, comprising scholars, consultants, journalists, healthcare professionals and incoming PhD students.
The aims of the event were:
To generate positive relationships between the Living With Feeling core team and named and potential collaborators at the outset of the LWF project
To initiate discussions about the best way of connecting the LWF themes with contemporary science, medical practice, phenomenology, and public policy
To map out opportunities for specific partnerships and projects across the 5-year grant within each strand
In the first session, participants described their interest in emotional health and offered three words that they associated with the concept. Connections were immediately forged: between PhD students and professors, Humanities and STEM, and stakeholders from HEI and non-HEI. We recorded these words on big sheets of paper and stuck them to the walls of the venue to provoke conversation throughout the afternoon – although, as one delegate pointed out, we should have offered a more structured opportunity to unpack these choices of words. There was some repetition but also some divergence, especially across disciplines, and, on table four, a real positive move with words like 'joy', 'spontaneity', 'laughter' and 'movement' being flagged.
The second session gave four members of the Living with Feeling team the opportunity to discuss their research projects with their collaborators in small groups: Thomas Dixon on anger, Tiffany Watt Smith on copying and imitation, Jules Evans on ecstasy and Sarah Chaney on public engagement.
In the third session some of the project collaborators introduced their work to participants. Sam Guglani (Gloucestershire Hospitals and Medicine Unboxed) discussed compassion and the patient-doctor relationship in the wake of mid-Staffs. Deborah Swinglehurst (QMUL) and Annalisa Manca (University of Dundee) sought feedback on a project which seeks to explore how patients (especially patients who are also doctors) represent their experiences of diagnosis in blogs. Stefan Priebe (QMUL) discussed social psychiatry and how emotions are produced in dialogue and situationally. Sue Ziebland (HERG, Oxford) described the interviews conducted by HERG of individuals with particular conditions. More information and excerpts are available on their website.
Where Next?
The following ideas were put forward by participants as a starting point for future collaborations.
One much repeated idea was for smaller, more focused workshops – thematically arising out of the connections made during this workshop.
One proposal was for an equivalent of 'death cafes': an opportunity for people to meet and discuss LWF in pubs, cafes etc. perhaps at the local hospice St Joseph's Hackney.
A Medicine Unboxed event on the emotions of the medical encounter.
A retreat (48-72h) focussed on specific questions
Roundtables and presentation of work in progress by team members
Workshops on more practical aspects of collaboration
Unstructured discussions run by non-physicians about emotional experiences of healthcare encounters – no end goal but instead value from the discussion itself with regards to emotional intelligence.
Watch this space!